Congratulations to the DeLaSalle High School students who received a Jefferson Award for their service while on a Pathways to Children Volunteer trip to Kolkata, India.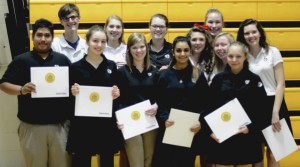 The students received the Outstanding Community Service Award in Recognition of Outstanding Leadership in Volunteerism!  The Jefferson Awards is a national organization that was founded by Jacqueline Kennedy Onassis, Sen. Robert Taft Jr. and Sam Beard in 1972.  The mission is to recognize individuals and organizations throughout the country that have a strong commitment to public service.
Goals of the program:
* Build awareness and participation in volunteer activities
within the school.
* Reward and recognize fellow students for their commitment to service by presenting them with Jefferson Awards on a school level.
* Instill the habit of volunteering and service to the public
throughout the local community.
Congrats to this amazing group of students!
Learn more about the Jefferson Awards today at http://www.jeffersonawards.org/