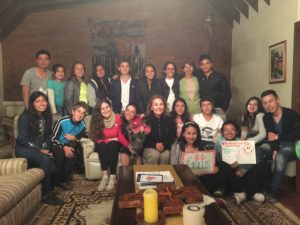 In November, 2015 Pathways took 17 students from inner city Minneapolis Cristo Rey high school to Bogota, Colombia. In Bogota each student was paired with a student from the Sisters of St Francis Rochester school that serves the low-income barrios in the northeastern neighborhoods of Bogotá. The students bonded amazingly well despite their cultural differences.
Pathways is now bringing the Bogota students to Minnesota. Many hurdles and obstacles had to be overcome getting their visas, but visas eventually materialized due to help from Ambassador Kaplan.  Students arrive July 3rd for 10 days. They are staying at St. John Vianney seminary at St. Thomas in Minneapolis as well as Assisi Heights convent in Rochester. It is planned that the students from Bogota, along with the Cristo Rey students, will be performing various volunteer activities including cleaning up a park and working in Spanish day care centers as well as some fun activities like practicing soccer with the United Soccer Team, attending a Twins game, taking a Segway tour of the river, and painting murals. While in Rochester, they will be volunteering at the convent, painting the barn on the premises, gardening, etc.  and meeting with sponsors who help pay for their education under a program developed by the Franciscan nuns.
This is a once in a life-time experience for all the students involved. We are excited about being a part of making it happen and will continue to post updates so watch this space for further details.