An Event with Zemene
Sunday, May 17th at 3:30 pm at Cristo Rey High School
(2924 4th Avenue S, Minneapolis, Minnesota 55408)
When the spirit holds fast to hope and courage, the impossible becomes possible. Join us for an inspirational, wondrous event showcasing the award-winning documentary film Zemene. Following the screening, engage in intimate discussion with film stars Zemene Tiget, Dr. Rick Hodes, and Director Melissa Donovan, while dining on enticing genuine Ethiopian and Italian cuisine. This family friendly event will conclude with a live auction filled with enriching endeavors and unique items. Come prepared to be awakened by the moving documentary Zemene and show your continued support for the Pathways to Children Foundation and its programs in India, Ethiopia, and Colombia, including the construction of a new school in Zemene's village, Belessa, Ethiopia.
What is Zemene?

Zemene is a heartwarming, award-winning documentary, focusing on Zemene, a young Ethiopian girl, and her battle to overcome her debilitating physical limitations. Zemene is a precocious 10-year-old living in rural Ethiopia. She was born with a life-threating curvature of the spine that severely limits her world, but not her spirit. While visiting the city with her uncle, Zemene meets esteemed American physician Rick Hodes, who enables her to secure much needed medical attention and an education. With her physical limitations lifted, and the affirmation that her life truly matters, Zemene blossoms into a confident young woman, determined to use her new found capabilities to give back to her community, bringing hope and the promise of a new future to her home. Gorgeously filmed in the breathtaking Ethiopian countryside, Zemene is a poignant testament to the strength of the human spirit – and a powerful depiction of the miraculous transformation and profound impact each human soul can have on one another.
Zemene Tiget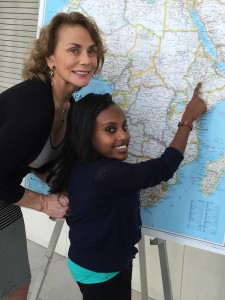 Zemene is a precocious 10-year-old, malnourished girl living in rural Ethiopia. She was born with a life-threatening curvature of the spine making it virtually impossible to have a healthy life. Orphaned at a young age when her mother tragically died and abandoned by her father, Zemene was raised by her ailing, aging grandparents. Throughout her childhood she withstood the mockery and cruelty of her peers, never letting her physical limitations dampen her spirit. With no access to healthcare and in a desperate attempt to ease Zemene's pain, her kind uncle takes her to the city of Gondar, trusting in the promise of technology, only to be told the doctors are unable to save her.
At a coffee shop in the city, by chance, or possibly fate, Zemene's need for help is unexpectedly met when she crosses paths with Dr. Rick Hodes, a medical internist specializing in spinal conditions. As soon as Dr. Hodes saw her, he felt compelled to help her. Dr. Hodes invited Zemene and her uncle to Ethiopia's capital city of Addis Ababa, to change her life, providing the support and resources crucial to gain physical strength and education. Once Zemene became a surgical candidate, Dr. Hodes graciously arranged for his colleague, Dr. Oheneba Boachie-Adjei, a distinguished worldwide spinal specialist, to perform surgery on her spine.  Zemene makes the long, difficult journey to Dr. Boachie's clinic in Ghana for the operation.
Five years after her journey began, Zemene, a much healthier, radiant young woman returns to her small village, Belessa, to retrace the steps of her past.  On this journey she realizes the duality her life has taken on, she stands between two worlds: her rural village where young women have few choices, and her life in the city where hopes and dreams are attainable. As we watch, we see Zemene's steadfast determination to meld these two worlds into a new cohesive whole, take form. Her desire to bring to her village the promise of hope, opportunity, and a promising future, so benevolently bestowed on her by Dr. Hodes is heart-warming and a true testament to the vivacity of the human spirit.
---
Dr. Rick Hodes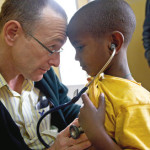 Rick Hodes is an American internal medicine doctor specializing in spinal deformities, rheumatic and congenital heart disease, and pediatric cancer. He has lived in Ethiopia for 27 years, and has adopted a number of children from the country. He is the senior consultant at a Mother Teresa's Mission mission with sick destitutes. He is medical director of the American Jewish Joint Distribution Committee (JDC), a 100-year old NGO which sponsors his work.
Rick Hodes is an American internal medicine doctor specializing in spinal deformities, rheumatic and congenital heart disease, and pediatric cancer. Initially arriving in the mid 1980s to help famine victims, he returned in 1985 to teach at Addis Ababa University Faculty of Medicine, and has worked for JDC since 1990.
Dr. Hodes is the medical director of the American Jewish Joint Distribution Committee (JDC), a 100-year old NGO which sponsors his work. Dr. Hodes directs JDC's non-sectarian medical programs, including cardiac care and treatment of spine disease. He also sees patients at the Missionaries of Charity (Mother Teresa's Mission). His patients cannot afford medical care, so Dr. Hodes raises funds to send heart patients to India for surgery, and spine patients to Ghana for traction and surgery. He has a large network of physicians worldwide he consults with and who sometimes donate free care.
Hodes first went to Ethiopia as a relief worker during the 1984 famine. He returned there on a Fulbright Fellowship to teach internal medicine, and in 1990 was hired by the JDC as the medical advisor for the country. His original position was to care for 25,000 potential immigrants to Israel. In 1991, Dr. Hodes, along with Senator Rudy Boschwitz, were active contributors during Operation Solomon, helping the Ethiopian Jews airlifted to Israel.
His greatest passion, however, remains caring for the severely ill at Mother Teresa's Mission for the Destitute and Dying where he regularly volunteers, saving the lives of children others have forgotten. In addition to his professional contributions, Dr. Rick has also adopted five Ethiopian children, giving them the opportunity to be part of his family, have access to healthcare, and receive a private education. Dr. Rick also supports, educates, and houses an additional fifteen children whom he counts as part of his growing international family.
Education
Dr. Hodes is a graduate of Middlebury College, the University of Rochester Medical School and trained in internal medicine at the Johns Hopkins University. He holds an academic
appointment at University of Texas Medical School in San Antonio, was a Fulbright Lecturer in Medicine at the Addis Ababa University in Ethiopia, and has honorary doctorates from Middlebury College, Regis University, Brandeis University, and the Jewish Theological Seminary.
Awards and Recognition
Dr. Hodes was inducted into the Medical Mission Hall of Fame in 2006
Hodes work in Ethiopia was the subject of a HBO documentary, "Making the Crooked Straight" and a Marilyn Berger book, "This Is a Soul: The Mission of Rick Hodes", Sam Shnider's documentary, Bewoket, and Melissa Donovan's film Zemene.
In 2007, Hodes was selected as a finalist for "CNN Heroes," in the "Championing Children" category, a program that highlights ordinary people for their extraordinary achievements.
In 2008, the American College of Physicians awarded him the rare title of "Mastership," in recognition of "exceedingly stellar career accomplishments."
The American College of Physicians has awarded him "Mastership," and the Rosenthal Award for creative practice of medicine.
He was honored as ABC's Person of the Week in 2010.
He has honorary doctorates from Middlebury College, Regis University, Brandeis University the Jewish Theological Seminary, and will receive an honorary doctorate from Kenyon College in 2015.
Abraham Verghese, author of Cutting for Stone, wrote of Marilyn Berger's book, This is a Soul: "There isn't a living physician whose life an quiet heroism I have admired more than the subject of this extraordinary book."
---